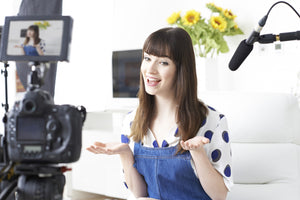 5 Pieces of Live Streaming Equipment You Shouldn't Live Without
5 Pieces of Live Streaming Equipment You Shouldn't Live Without
5 Pieces of Live Streaming Equipment You Shouldn't Live Without
5 Pieces of Live Streaming Equipment You Shouldn't Live Without
There are some pieces of live streaming equipment that you can and can't live without. Keep reading and learn more here.
Keyword(s): live streaming equipment
By 2027, the live streaming market will be worth close to $247-billion!
Live streaming is a great way to connect with your fans and to create new ones.
But before you get started, some pieces of equipment will make the process easier for you. We've put together this list of essential pieces of live streaming equipment so that you don't have to go through all the trouble yourself!
Read on for more information about these 5 must-have items.
1. A Steady Tripod With an Unobstructed View
Live streaming is a lot easier when you have a tripod that will set up quickly and give you an uninterrupted shot.
Keeping your phone/camera steady while live streaming can be tricky, but it's impossible to get the best quality footage without a tripod. Even the smallest tripods will help increase the quality of your stream, but they're easily obstructed. Look for tripods that have a quick-release plate so that you can set up your shot in seconds.
When setting up your tripod, make sure that it's in a stable location and that you have an unobstructed view. One that rises high above everyone around is the best option. This will ensure that your footage is smooth and clear.
2. A Fast Internet Connection
You need at least 3.0 Mbps of speed to stream successfully. You can check your internet speed within the Apollo Streams app or by using websites like Ookla or TestMy.net.
A fast connection will ensure that you don't experience any buffering issues during your live stream, and it will make sure the quality of the video camera is as good as possible.
Apollo Streams will work off of any Wifi or Mobile Hotspot connection. If you have a really slow speed on a field, check someone else's carrier to see if they have a better reception for a mobile hotspot. They don't need any special equipment to offer up their hotspot.  
3. A 4K Camera
Ideally, you want to have a camera that can save a higher resolution but sends a lower resolution to the live streaming platform.
4k cameras are becoming more accessible, and they can help you get better headlines, whether you want to live stream or record your video. You'll get a crisper picture if you use a camera with 4k resolution because it can significantly outperform standard definition cameras.
You should know even when using a 4k camera, the live streaming platform will see a crisper picture, but you won't be able to stream in 4k. If you use a standard definition camera, the live streaming platform will send out a lower-quality video that will still look good on your phone.
4. A Stabilized Zoom Feature
Nothing worse than a bobbing around camera.
Zoom is a necessity for live streaming sports. If you think about it, many people watch live streams on their phones. If you don't zoom in, all of the players running around the field will look like ants.  Make sure that your camera has a stabilized zoom feature. This way, you can get a clear shot of whatever you're recording without experiencing any pixelation.
5. Weather Shields
Protection from overheating in the sun and protection from the rain and snow.
Live streaming in the summertime will almost always result in overheating if you don't have a weathershield. Live streaming in the Spring and Fall usually introduces rain and sometimes snow depending upon where you live. To avoid challenging weather issues during your next broadcast, make sure that you have a weather shield or some sort of enclosure for your devices.
The Best Set-up for Live Streaming
The Apollo Streams set-up is perfect for live streaming no matter where you are. The tripod rises up 9 feet for an unobstructed view, so fans and players on the sidelines will not get in the way of a good shot.
The 4k camera will give you clear footage, and with the stabilized zoom, you can stay zoomed in without creating any pixelation. And with an iPhone 11 or higher you can take advantage of all 3 camera lenses.
With a fast enough internet connection you'll see no buffering, and it's also stable enough that your footage won't have tons of interruptions.
With the weather shield on your iPhone(s) and iPad, you won't have to worry about overheating or any other issues that might interfere with your live stream.
Now you've got the full set-up, so get to live streaming!
A Few Tips for Live Stream Beginners
When you just start live streaming, everything is new. Here are some quick tips to help you feel more comfortable with live streaming:
Know the platform you're using inside and out. If you don't know your way around the app, it might be difficult for you to use it smoothly when you need to troubleshoot or switch locations.
Know how to fix technical glitches before you start. If your internet connection is struggling, it's best to find out ahead of time so that it doesn't ruin your stream. When you test everything before the actual stream, you can avoid any major issues that might happen during the live part of the broadcast.
Know what equipment works best for you. It's important to know your setup inside and out because it will help you troubleshoot when something goes wrong with your gear or there is an issue with your live stream app, like a connection error.
Make sure that you have everything before the stream starts. If you are just about to start your live stream, take a moment to make sure that your phone is fully charged (or chargers are plugged into batteries, all of your equipment is set up perfectly, and the live streaming app is working properly.
If you mess up during the broadcast, don't worry! Live streaming is a learning process. Even if you mess up during your live stream, don't worry about it! Just learn from the mistake and try not to make it again in your next live stream. Most people are grateful you're putting in the effort so they can watch for free!
Level Up Your Live Streaming Equipment Today
This list covered five pieces of live streaming equipment that are crucial for any live streamer. If you have all of the equipment, go out there and start streaming!
When you're ready to level up your live stream, check out our equipment. We'd be happy to help!
---